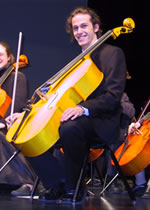 "This cello has been the difference between night and day; it has brought a whole new world of opportunities in music for me, and allowed me to play harder works while maintaining a clear and beautiful tone. The cello has the best sound of the cellos I have played ranging from new handmade to century old and beyond. It is extremely easy to play, and the sound developed quickly. Professionals have judged the cello to be much older based on how the sound has developed. The tone has a subtle beauty in quiet passages, and huge volume with a rich deep low end and a clear pure high end. The craftsmanship is exquisite. I love it!"
-Graham K., Kingston, ON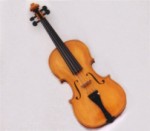 "I am primarily a violinist and I play in the Durham Chamber Orchestra as well as other chamber groups on occasion. I purchased a viola from Chris last December and I am enjoying its even tone and craftsmanship. Chris is meticulous in his workmanship and devoted to evolving his craft."
-Catherine K., Toronto, ON
I am enjoying my 5 string viola, play with it in my string trio and weddings, this way I only need the one instrument instead of violin and a viola. It has a lovely rich tone on the lower strings and the E string has a nice alto sound instead of the bright sound and blends very well when our violinist and cellist play with me. Chris has taken a great deal of care and love in making this instrument for me.
Kathy Coltof, Oshawa, ON
My Chris Andrew cello has reached its six month old birthday and I have loved every single week and hour of practice and performances. Over the past six months my cello has matured and has developed a beautiful, sweet, singing tone. I have taken it everywhere with me from lessons to master classes and advanced string workshops and competitions and the major comment which I receive everywhere I go is, "you have a beautiful instrument".
More to come!
"I truly love my new cello. The warm yet resonant sound it began with has only improved with time and will continue to do so. I am very thankful for having had the opportunity to watch and learn at various stages during the instrument building process, having been invited to the workshop on several occasions. That experience has deepened my appreciation for the amount of dedication and care it takes to produce such a fine instrument, including its handmade characteristics which make it unique unto itself. Thanks so much, Chris, for a beautiful cello which is an absolute joy to play. I'm sure I will be enjoying it for a lifetime."
-Pamela H., Campbellford, ON